Cut Armed Police Not The Army :The Faulty Approach To National Defence
Rajiv Upadhyay 
The news about Army Chief recommending the reduction in the strength of armed forces was incredibly disheartening .
It can have its origin in American advice of equipping the soldier with many more lethal weapons but reducing the number to save on cost . It is invalid for us because in 1962 China used the human wave approach in which the unarmed soldier behind just picked up the rifle of dead soldier and continued the war . China is planning same strategy with missiles and Drones now which will be used in overwhelming number to finish our air base defence in North East .
We have made one mountain strike corps which too has not been fully armed . We need another mountain corps because with CPEC war can be fought on both fronts together . Even our first mountain corps is reportedly having half the strength ( 45000 against 80000 planned ).
Our defence budget to GDP ratio is lowest since 1962 . A comparison with China will show how ill prepared we will be to face Chinese threat in future . We are hoping to  combat Chinese superiority with diplomacy . It is just a wrong belief of our bureaucracy . Treaties and alliances are like Russo – German pact before the beginning of the second world war . It did not prevent the Germany's attack on Russia . It was only the supreme sacrifice of Soviet Army that saved Russia.
The confused soft thinking is responsible for our poor defence preparedness. At the time of Parliament and Mumbai attack our military readiness was inadequate due to 'Babudom ' of defnce ministry overruling experienced Generals . The classic case of lowest cost ammunition for Bofor Guns bought from a friendly country is an indication of how unsuitable bureaucracy is for running the affairs of defence ministry .
Earlier we heard  cantonements are being given away to save money !
Now we are reducing the army size for economy !
It is repeat of the Krishna Menon era where ordenace factories were making coffee machines !
We know guns do not bring votes . There is more to defence planning than just buying jets after fifteen years of deliberations that too too little too late !
Firstly our defence budget is inadequate and needs to be increased .
Secondly we have increased the number of armed police strength far more than  needed because it is finally the army which saves the nation not police . The state police is just useless for fighting terrorism in Kashmir and North East .
Some how bureaucracy convinced Nehru / Indira Gandhi that away to prevent Pakistan type coups by having a large number of armed constabularies . It is burgeoning with DGPs having higher rank than Lt. Generals .In case of Gen V K Singh dispute bureaucracy used the old coup approach by roping in shady journalists .It should atone its sins now atleast by supporting nations defence .
There is need to ban recruitment in these forces . We should save on pensions by posting young retiring soldiers in these forces . CRPF can be an army unit of retired personnel but under 45 people but posted in different states . ITBP can be a mixed army unit with young police personnel being inducted in mountain division after retraining . IAS/IPS services should atleast have a positive approach rather than controlling politicians through defence purchase deals and expanding their empires .
The strength of armed police forces is given below  which should be reduced by 100000 instead of army .
CRPF           313678
BSF              257,363
CISF             144618
SSB                 76337
ITBP               89432
General Rawat should have Gen Manekshaw as an ideal not Lt. Gen Kaul of 1962 at Smt Sitharaman should not try to be a Krishna Menon .
India should increase its defence expenditure to 2.5% of GDP .
Why General Rawat wants to cut army's size by 1 lakh troops
'We have to cut down on manpower to make more for equipment,' Indian Army chief tells Ajai Shukla.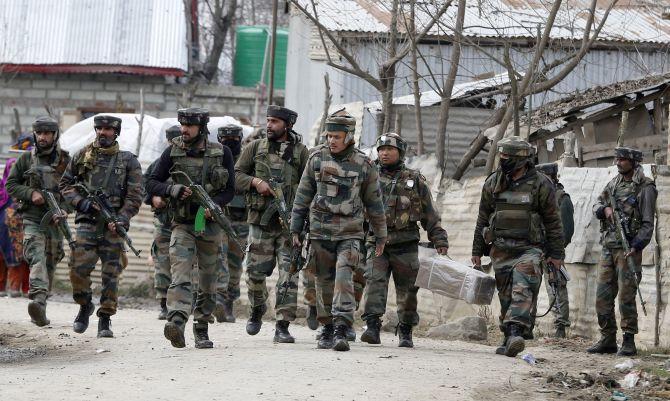 Army chief General Bipin Rawat will hold talks with his top generals — the seven army commanders, and his personal staff officers — on Tuesday, September 11, in New Delhi, seeking to bring them on board as he embarks on the most far-reaching personnel and organisational reforms the force has attempted since Independence.
The defence ministry has already initiated a reduction of 57,000 personnel, including 30,000 civilian employees, in line with the recommendations of the Shekatkar Committee.
Now, General Rawat is courageously targeting the reduction of another 50,000 uniformed soldiers.
These include not just logistics and services personnel, but even manpower from infantry battalions — the basic fighting unit of the army and widely considered untouchable.
Confirming the process to me, General Rawat stated: "The army has become 1.25 million-strong and is continuing to expand. We spend 83 per cent of our budget on revenue expenditure, mainly salaries and pensions, which leaves just 17 per cent for modernisation."
"We have to cut down on manpower to make more for equipment," the general said.
While General Rawat is firmly in the saddle — he has been army chief for over a-year-and-a-half and has as long to go, a tenure longer than any recent army chief — his proposed reforms cut so deeply into existing hierarchies and interest groups that buy-in from senior generals is essential.
Without that, the proposals could be mired in endless discussions and counter-proposals.
No formal proposal has yet been laid on the table.
But the army is abuzz with speculation, because the 'convening orders' of the three committees, which will recommend reduction and reform measures, have been made public.
Each committee is headed by a senior lieutenant general and deals with a separate area.
One committee, headed by the army's 'financial planning' chief, Lieutenant General Ajai Singh, will present proposals to cut down the size of the army headquarters.
General Rawat is known to believe that, over the years, AHQ has become bloated with non-essential appointments and departments.
Sources close to the army chief said he has suggested to Lieutenant General Singh to examine the feasibility of merging the AHQ's Military Training Directorate with the Shimla-based Army Training Command.
Both organisations perform overlapping functions and there is believed to be scope for significant manpower reductions.
Similarly, just as the Directorate General of Assam Rifles is based in Shillong, in the north east where his battalions operate, Lieutenant General Singh will consider whether the Directorate General of Rashtriya Rifles should be moved from its present location in New Delhi to Udhampur or Srinagar, where all Rashtriya Rifle battalions operate.
A second committee, headed by the army's 'perspective planning' chief, Lieutenant General P M Bali, will examine measures to eliminate unnecessary officer appointments, especially those that arose from the Ajai Vikram Singh Committee.
In addition, General Rawat has asked Lieutenant General Bali to consider whether the large number of brigade, division and corps HQ can be pruned, saving on manpower needed to staff each HQ.
Instead of the current organisation, where three infantry battalions come under a brigade HQ, three brigades come under a division HQ and two divisions come under a corps HQ, the committee would examine if it is possible to eliminate the division HQ.
Instead, four-five battalions could be grouped under each brigade HQ, and the resulting four-five brigades come directly under a corps HQ.
The third committee, headed by the military secretary, Lieutenant General J S Sandhu, will work on proposals to slash the authorisation of officers, which currently amounts to almost 50,000.
There is invariably a shortfall of 7,000 to 8,000 officers, and the belief in several quarters is that this is an artificial scarcity.
This committee will examine whether the shortfall can be eliminated partly by reducing the officer authorisation and partly by promoting more deserving soldiers to officer rank.
In Parliament, in December 2017, the defence ministry stated that the strength of the army was 1.21 million and that 49,932 officers were authorised.
In addition, tens of thousands of civilian employees are paid from the army budget.